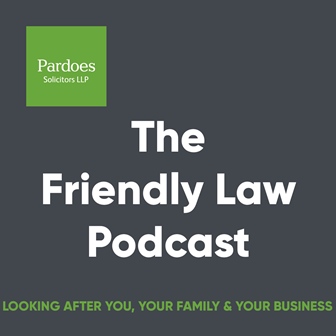 Pardoes Solicitors LLP has launched its podcast – The Friendly Law Podcast – which is available to download and subscribe to on Apple and Podbean.
The purpose of the podcast, which was launched on Thursday 4 June, is to provide listeners with a free service where they can find out about areas of the law that matter to them. The format for the episodes is an informal chat between two colleagues discussing their area of specialism and answering questions that listeners have requested (with a few guest clients thrown in!).
Equity Partner Bhavani Hogarty comments: "In these difficult times and because we can no longer provide our free legal clinics, we wish to continue to help those who have legal issues but are wary of contacting solicitors so the podcast is our vehicle for removing barriers to legal advice."
The initial episode strives to bust the myth about stereotypical solicitors by introducing the firm with a grilling of Bhavani as one of the owners of the business. It also highlights Pardoes' involvement in the local community and the fact that they help individuals, their families and their businesses. Future topics will refer to specific areas of the law.
The first episode is now available to download on Apple and Podbean with further episodes being uploaded bi-monthly.
The Friendly Law Podcast takes the solicitor from behind the desk and puts them face to face with you/the community, referring to issues you are currently dealing with and how we can help you address them.